The story



This is the story of a split family.
They all grew up in Emmen, where
Sjouke Postma
and
Janna Jans
ran a hotel. Their three oldest boys were born in Meppel, the other three children were born after they moved to Emmen. Sjouke was of Frisian origin, and came from a smal hamlet on the map called 'Zwarte Haan', high up in the North. 4 houses, a pub and a farm right behind the Waddensea dike.
His father Jacob Jacobs Postma died young at 38, leaving the widow Froukje Postma-Polstra and her little boys Jacob(1875), Sjouke(1874) and Klaas(1880) behind with little means.
A few years later, his mother found another man, who wanted to spend his life with here, on one condition: the boys had to leave.
As the poor woman had no means of existence, the deal was made. Young Sjouke and Jacob went to their Grandmother in Leeuwarden. Grandmother died a few years later, the boys then split. His brother Jacob stayed in Friesland, Sjouke went to work in hotels in Steenwijk, than Meppel. No more school, just work.
Here he met the love of his live, Janna Jans from Ruinerwold, who came from a humble farmersfamily.. From my father I learned, Sjouke drank a few times too much as a young man, but was quickly cured from this by the stern Janna. He was abstinent for the rest of his live.
Two kids died at birth.
Jacob
came in 1901, than
Hennie
, than
Klaas
. All born in Meppel.
Sjouke got an opportunity to run the hotel of a certain Meijer, in Emmen. So they moved, still working for others. The fourth child came, the first and only girl,
Frouwkje
.
But Sjouke and Janna wanted a business for themselves. So, with little or no money, but a lot of courage and entrepreurship, they had their own hotel built, very near to the newly constructed railroad and station.
The first years were hard. Especially Janna worked hard, the first to rise, the last one to go asleep. Sjouke was more a man of ideas, did the bookkeeping, and became more and more a public figure in Emmen. He sat for the liberal party ("Vrijheidsbond") in het community council, and later even represented the three nothern Dutch provinces in The Hague.
In 1910, their fifth child was born, my father Johan Sjouke, or
Joop
for short.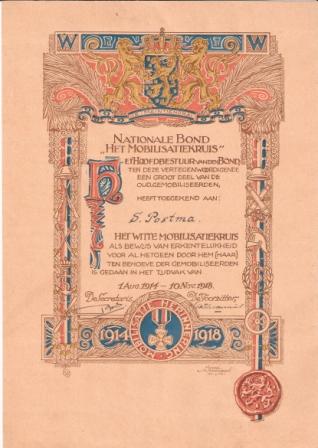 Even though they had to work hard, and the kids all had to help in the hotel, life was good, and business thrived. Until World War I, in 1914. One of the two main stupid conflicts in this century, amongst so many other. The Netherlands managed to stay neutral. Nevertheless, a lot of Belgians fled to Holland, not wanting to die in the killing fields in Flanders and the north of France.
They came to Emmen too, many of them stayed in Hotel Postma. My guess is, they weren't very good paying customers, but were welcomed anyway by the warm-hearted Sjouke and Janna. To honour them for their help, they received a certificate, a "mobilisation cross", of which you can see a picture here.
Four years later, this ordeal was over. To celebrate this,
a chestnut remembrance tree
was planted in the backyard.
Life went on, and so did business. In 1922, their sixth (or eight, if you count the two stillborn too), child was born. A boy again, Albert, in daily life called
Bert
. By this time the three eldest boys already had left home, Jacob and Hennie sailing the seven seas and Klaas studying to be an architect in the west of the country.
Frouwkje had a lot of musical talent. She was good at playing the piano, also played the organ in the Dutch Reformed church for many years and became a pianoteacher.She stayed single all her life.
Joop probably was the most intelligent of them all, not very technical or artistically endowed like some of his brothers.
Bert, the Benjamin of the family, also was a bright kid, very lively so giving his already elderly mother a hard time.
It was agreed that Jacob, the eldest, would take over the hotel. He had been away doing the catering on sealiners for many years, but now wanted to settle down with the love of his life, Frieda.
In 1932, work on the "Kolhoop" started, a house designed by son Klaas, for his parents to live in next to the hotel.
In the end, everything with this house turned out fine, though there were times, it did not look this way. See:
Kolhoop
.
By this time, four children had left home: Jacob lived in the hotel nearby, after many years abroad. Hennie became a teacher, and left with his wife and firstborn for the
Dutch Indies
, a place he kept a soft spot for all his life. Klaas worked as building engineer and architect in Utrecht with his wife Dora.
These three brothers all had children.
Joop went to study theology, first in Groningen at the university, later in Amsterdam. He later became a
mennonite
minister of religion.
Only Frouwkje and Bert stayed at the Kolhoop with their parents.
The dark shadow of national socialism began to fall over Europe. Jacob sympathised with their ideas, saw the economic growth and risen self-confidence in the east. Hennie was far away in Asia, but did not sympathise at all. Klaas was strongly opposed.
Joop learned during his study about the dreadful way Stalin treated his fellow-Mennonites in the Sowjetunion and saw Hitler-Germany as a good opponent to this. Thus thrying to hunt away the devil with Beelzebub. He also took the opportunity, already in wartime, to go to the region near Gdansk to do research about the mennonites, with help of the local German authorities. A pretty daft thing to do, in my opinion.
Wartime and wartime-events split up the family for good. Sad but true.
When German troops stampeded into Holland, like they did everywhere else in Europe, Jacob was a regional leading figure of the Dutch national-socialist movement, Hennie and his family became prisoners of the Japanese, the allies of the nazis in Asia, Klaas founded a resistance group and was killed some years later by the Germans.
Joop, who by now was a mennonite minister of religion, got very very sick, to the point of dying. He was in Davos in Switserland to recover from tuberculosis. As everybody thought he would not make it throught the night, they gave him, as a last resort, a medicine with nothing else but a number. It turned out to be an antibiotic and he miraculously survived. During wartime, he came back to Holland, couldn't find a job as minister of religion and started to work as a civil servant - for the occupators. Opportunism was not foreign to him, and by now he had a wife and two kids to take care of.
Frouwkje stayed with her parents. At first
Bert
did too, but he later signed up for the Waffen SS, never to come back to live in the Netherlands again.
Sjouke passed away on may 4th 1943, of bad health as well as grief over the fact that several of his kids sympathised with the nazi's.
Luckily he did not live to see his other son Klaas being killed by these same nazi's on 29th of february 1944.
By May 1945, the liberation, the situation was this:
Jacob and his wife were emprisoned as collaborators.
Hennie had survived terrible years in Japanese camps in Dutch Indie, as had his wife and kids.
Klaas was dead, executed by the nazi's
Joop was wanted for collaboration, ran off after a while, leaving behind his wife and kids with no means of income.
Frouwkje was imprisoned shortly, mainly because of her brother I guess.
Mother Janna too was detained. These two women were released quite soon, not having done much.
Bert, shortly came to Holland to look up his mother, was wanted by the auhorities too as a former Waffen SS-er and fled.
And of course, my grandpa Sjouke had died several years earlier.
In this shattered family it never seemed possible to like or dislike each other in a normal way. As is the case in a normal family.
Always the war, with all its trauma's, grief, hatred and sorrow kept in the way.
The sorrow of the homeless little girl
, kicked out of the house of her grandmother together with her babybrother, having no place to go to as all were in captivity because of collaboration.
The sorrow of the school girl
, who should have partied a bit and enjoy life, but ended up in a Japanese concentration camp instead.
The sorrow of the little seven year old boy
whose father was shot dead and ended up with his traumatised mother, brother and sister.
The sorrow of a sister who loved all of her brothers
, regardless their political choice in wartime, and was emotionally torn apart by this.
The sorrow of a wife and her two very small daughters
, who had to live on an old houseboat with no means of existence as her husband had run off.
The sorrow of the young man and father himself
, who on the same day lost his only brother and learned his fathers identity was a lie.
And that's, as far as I'm concerned, what this is all about.
Back to the hotel
To the familyportrait