Frouwkje


The only girl she was, with 3 brothers before and 2 after her. Must be kind of special, growing up in a men's household like that. Though I think her mother Janna in fact was the one with the most authority around the house and in the hotel.

Already at a very young age her artistic talents were recognised. As Klaas was good at drawing and designing, she loved:

music

. She played the piano and organ and did so quite well.

She had a happy childhood, protected and loved by all her brothers.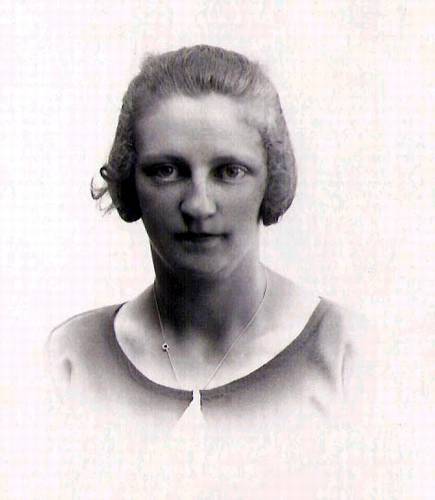 Here you see a picture of her as a young girl. As you can see, she was rather pretty, so there must have been boys who had a crush on her.
But Frouwkje never married.

The love for music was stronger.



Around the time the above picture was taken, she began to play the organ during services in the Dutch Reformed church in Emmen. She did this for over 40 years. At the beginning there was no electrical airpump with the organ, so sometimes her little brother Joop had to step on the airpedals of the organ to make it work.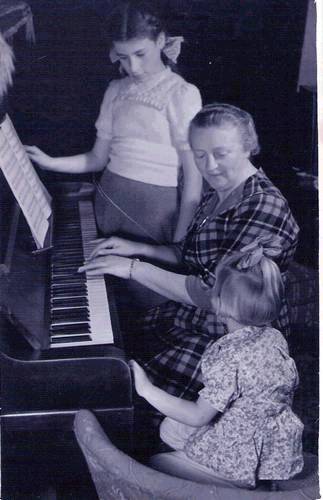 Later on, she became a pianoteacher. She gave lessons at home in the Kolhoop. Also she became a teacher at a secondary school in Coevorden.
I believe she could be quite strict as a teacher, like her mother was at home. And her brothers Hennie and Joop, who both were teachers as well in the course of their lives.


She loved

all her brothers and kept doing so all her live.


This seems quite obvious now, but in the turbulent political situation of the 30's and 40's of the past 20th century this became a great tragedy.

Klaas joined the resistance, Jacob joined the National Socialist Movement, Hennie was far away in Asia, Bert joined the Waffen SS, Joop collaborated too after returning from Switserland. Frouwkje stayed with her parents and took care of them, took care of her dad when he got ill and died in 1943. Being a very sensitive women, she also was clairvoyant. When Klaas was executed, she knew this before she was told.

Where she stood in all this? I haven't got the faintest idea. According to my sisters, she hardly ever made a remark which could be interpreted as sympathizing with National Socialism.
Nevertheless, she was arrested after the war, her hair was shaved off by 'afterwar heroes'. This was common practice then with women called 'moffenhoer', which means 'kraut-whore', so a woman who slept with German occupiers.
Mind you, she left this earthly life as a virgin. It was absurd, unjust, and unexcusable. Poor aunt Frouwkje.

She and her mother were quickly released afterwards. And as I understood, most people in Emmen held no grudge against her whatsoever.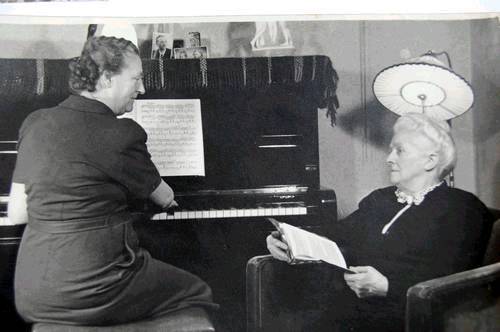 After things calmed down in the 50's she had a meaningful life with her mother in the Kolhoop.
Frouwkje became the nice 'sugarauntie' for her brothers children.

The children of Jacob all often stayed there, as did Hennie's daughter and she had a good relationship Joop's three daughters. Jacob's oldest daughter even lived there for several years and finished secondary school in Emmen.
I know my youngest sister Sietske went once to Sardinia with my aunt.




Frouwkje travelled a lot, all over Europe. She made her own money, had no family to take care of, so she had time and money to do so.
She kept in contact with her exiled brother Bert all her life. They met at least once a year, mostly right across the border near Meppen in Germany. Asked by others where her brother Bert was, all she said was: "He is somewhere safe". Again, no matter what he might have done, she loved him. Also his two sons knew her as a nice loving aunt, not aware of the real nature of their relationship with her.

Mother died in 1964, Frouwkje stayed behind in the Kolhoop. She kept on teaching, but felt quite lonely from time to time. Of course, the children of her brothers grew up, developing their own - sometimes rebellious ideas in the roaring sixties. So had less in common with their old aunt. Times were like that, then.
She got arthritis, a tragedy for her, as it became clear that in the near future she would no longer be able to play her beloved piano.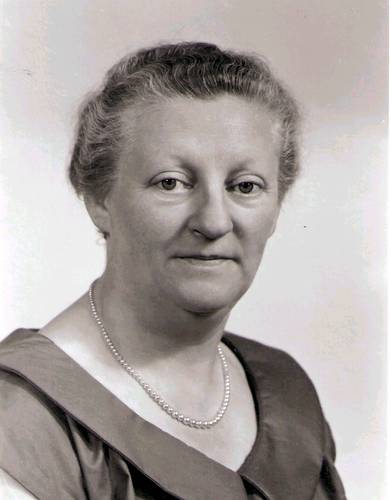 Again, poor aunt Frouwkje.

She got depressed, felt unjustly treated by some people and probably by life itself.
Finally, lonelines and physical disability became too much for her to bear.



Frouwkje took her own life, by taking an overdose of the various medicines that had been prescribed to her.

This was not what I was told then. That was the fairy tale, that she died of the then worldwide Hong Kong flu.

She had a lot of love to give, to her parents, her brothers, her nieces and nephews. And love for the music.
At the morning of january the 8th 1970, she was found dead in her own bed in Emmen.
Hennie, Jacob and Joop went there very quickly. Hennie learned from the doctor what had really happened. The boys mourned.

Her remains were cremated in the crematorium in the city of Groningen a few days later. The house the Kolhoop was sold. And so, from then on, no Postma of this family ever lived in Emmen.


Back to the hotel
To the Familyportrait