Janna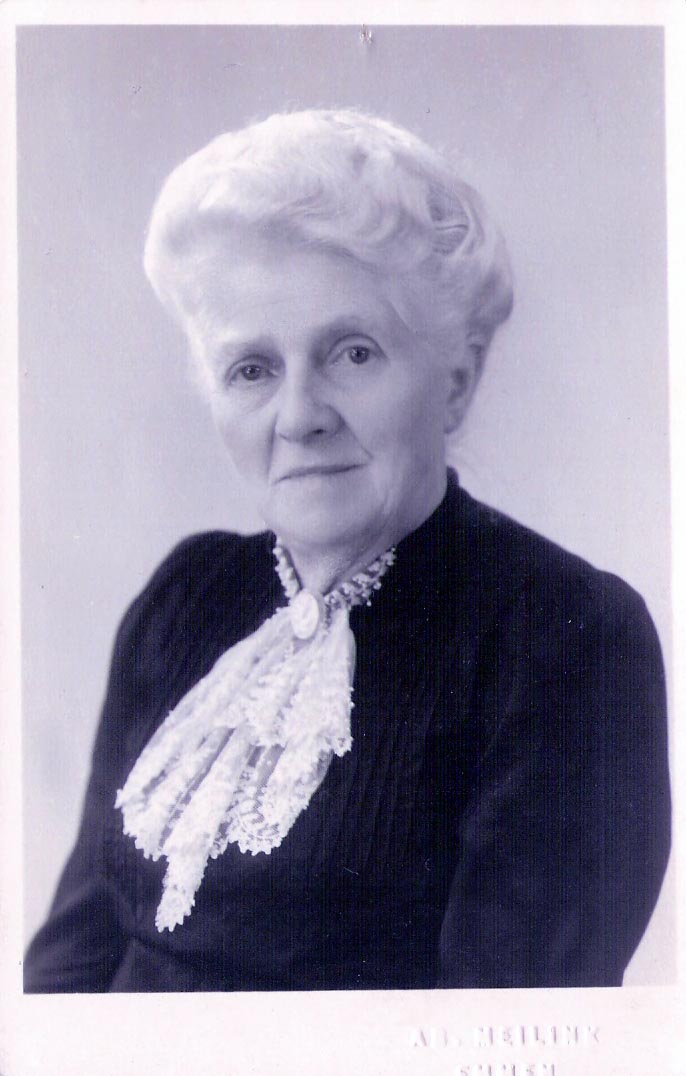 Times were hard, when Janna was born in 1880. Her parents were small farmers in the south of Drenthe.
She was number three in the row of 6 kids of Albert Jans and Hendrikje Pouwels.

Jan, born in 1976(boy)
Lukas, born in 1978(boy)
Janna, born in 1880(girl)
Jentje, born 1882(girl)
Gerhardus, born in 1886(boy)
Jan Meeuwes, born in 1889(boy)

They managed, maybe not hungry, but nevertheless poor.
So in time, Janna was sent away to work in somebody elses household in Haarlem, one and a half days journey away. This was common practice in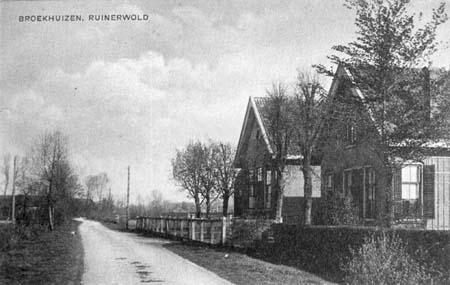 poor families in these days.
After a few years, she came back, and found work in nearby Meppel. And there she met the love of her life: the clever, rather charming Frisian guy, named Sjouke.
They married, and ran a cafe in Meppel together.

Children came, two were stillborn, to her great despair and grief. In 1901, Jacob was born, in 1903 Hennie, in 1904 Klaas. And all through her pregnancies she worked and worked and worked. Like she always did.
Sjouke and she went to live in Steenwijk, later moved back to Meppel.

One sad event happened at her parents home, while she was already with Sjouke. One of her brothers got mental problems and took his own life.
I could not find out who, but most likely it will have been Lukas, as I found on Genlias that he died at the age of 26.
Her brother Gerhardus went in the hotel business as well. He opened up a hotel in Rijs, in Friesland, Hotel Jans. Jacob worked there in the 1950's. It still exists today.

In Emmen, a couple was wanted to run the hotel of a certain Meijer. They went, to forever stay in Emmen. They started up their own business in 1909.
And Janna worked, and got three more kids in Emmen. Frouwkje in 1906, Joop in 1910, and even 12 years later Bert.
She was hard for herself, always working, never giving herself rest for the children, just coping with the job. Politics in the 1930-s, didn't interest her much, nor did she fully understand what it was all about. Janna was no intellectual.

And thus, as times changed, she did not oppose to nazism. Even sent her youngest Bert back to Waffen SS-school when he ran off as he could not cope anymore with the harsh - mental - conditions there.
Another time long before that, her other son Joop was sent from school and came home. She simply refused to let him in, but instead said: "You go back to school and ask for the most severe punishment they are prepared to give to you". Joop had no other choice than to do so.

People had respect for her, as little as she was. One time there was a quarrel outside in Emmen, and a drunk man knifed another one. A whole bunch of drunk young men stood around him, preventing anybody to help the bleeding guy. They wanted to let him bleed to death. She stepped in and saved the young mans life. Heroic.

Her husband died in 1943, she stayed in the Kolhoop together with Frouwkje. She didn't oppose her son's political views and acts. And to my knowledge never gave any sign of support for the one resisting the nazi's, Klaas. What happened exactly we will never know, but one time Klaas came to visit them, mother and daughter were not there to welcome him.
To the best of my knowledge, Janna did not visit her son, when in captivity. But mourned when he died, most certainly. Probably thinking he had made the wrong decision.

May 1945: Freedom in Holland, but not for Janna and daughter Frouwkje. They were arrested, and brought to former concentration camp Westerbork, now used to detain people accused of collaboration. Son Hennie liberated them, he himself being a warvictim in the Dutch Indies.

Janna kept active for almost all her life. She ran a small tobaccoshop till 1962 at the age of 82. And died in 1964. Always busy, always doing things. Not very conscious of the right or wrong of certain political views.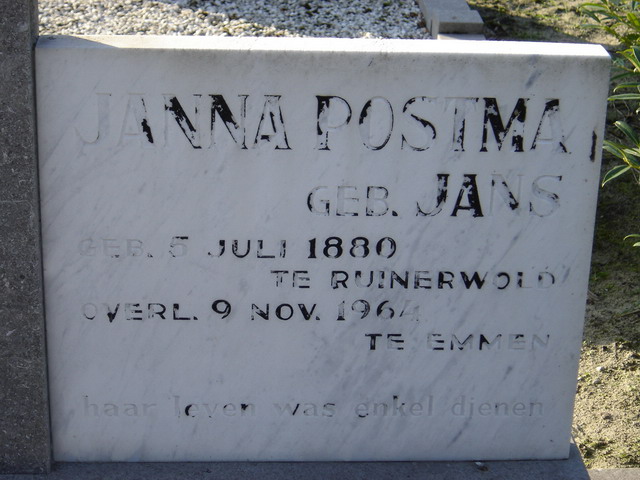 The text on her grave says: "Her life was just to serve". That's what she did. Strictly obiding the rules she also imposed on others.




Back to the hotel
To the familyportrait