Hennie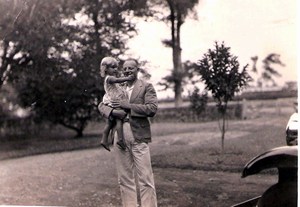 The emerald colour on this page is no coincidence, as it symbolizes Hennie's love for "The Emerald Girdle", the Dutch Indies.
Hennie loved the life over there, more than the somewhat 'narrowminded' and wet climate in his homeland The Netherlands.

Even after the terrible times during Japanese occupation and the return to Holland, they still wanted to go back.

Pretty soon after the second world war, they returned to the Dutch Indies, then still part of the kingdom of the Netherlands.
Alas, colonialism was ending, and the Dutch never regained real power. The Indonesian independence was declared two days after the Japanese surrendered (thanks to the atomic bomb), on 17th of august 1945, but the Dutch really retreated in 1949.

That meant the final return of Hennie, his wife and their son Jan to the cold damp country near the North sea. Daughter Christa (17)had stayed there already after WW II. The decision to recognise the Indonesian independence in 1945(and not 1949) was made by the Dutch government, however, in 2005.

They built up a new existence, in Mijdrecht, a place near Rotterdam.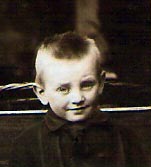 Back to his childhood.
Hendrik Jan, as he was fully named, was born as the second child(alive) of Sjouke and Janna, in Meppel in 1903, where his mom and dad ran a hotel, cafe and restaurant. At the time of his birth there where a lot of soldiers in Meppel, due to serious conflicts with railroadworkers. They threw a big party at his birth. So, a warm welcome. He lived there very shorly, as they moved to Emmen when he was about 2 years old. Like all the others, that's where he grew up. All his life he considered himself a Drent, as opposed in a way to his dad Sjouke, who was born a Frisian.He had a warm relationship to both his dad and his mom.

Hennie was quite technically minded, clever also, but more a doer than e.g. his kid brother Joop the intellectual. He went to the technical school in Emmen, as did his one year younger brother Klaas. He learned to be a blacksmith.
Klaas and he had contact with the local bicycle-store in Emmen, they managed to get old parts and built their own bike. When trying how far they could get on it, it mostly broke before the end of the street. Big fun.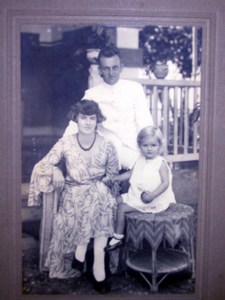 Like his brother, he continued studying on after having done his mid-terms, and went to sea for several years, thus combining work and education.
This made him 'look over the fence' of Emmen, and it made him decide in later years to move to the Dutch Indies, a land of opportunities for Dutchmen then.
He had several jobs as a teacher in technical skills on several islands. Being an intelligent man, he taught himself more than one of the local languages, like Malayan and Sundanese. Their daughter Christa was born on East-Java.
There was an unfortunate period shorthly after that, as Hennie got tuberculosis, just like his brother Joop got in later years. For treatment, they returned for a while to the Netherlands, where their son Jan was born. Luckily he recoverd completely and they went back to the Indies.
Life was good, of course it was hard work, but there were opportunities enough and servants to wait on them. Stien(birthname Christina), his wife was mentally not that stable, but she managed okay within the situation that time.




Then, disaster came. First, in1940, when the nazis rolled into their homeland, in the Dutch Indies did not happen much. The Japanese were making friends with the Germans, but the attack on Pearl Harbour was still a year away. They still had contact with the family in Holland, but there was of course not much they could do for them.
In 1942 the Japs came. It was horrible. Having started off slowly, the Japanese occupators gradually took rights and goods away from the Dutch and put them all in camps. Christa and her mother went to Tjihapit, in Bandung. Jan, 11 years old, went to a boyscamp somewhere else on the island of Java.
And dad Hennie had to work on a death railway near Pakan Baru, on the isle of Sumatra. It was just as bad as the Burma-line, only less known. The Japanese worked out the ill-fated plan to build a railroad, mainly for goods, across the island through the jungle. Under Dutch ruling, Dutch engineers had concluded this would cost to many lives. The Japanese did not care about that. Humans were expandible in their view. So approximately 80.000 romusha's(Indonsian slaveworkers) and 8.000 westerners(meaning Dutch, Brits and Autralians) died of malnutrition and tropical diseases.
One in ten survived, amongst them Hennie. The whole railroad was used in its entire existence only once, to transport the freed prisoners back to the harbour. After that, jungle grew over it again, like in Burma. Nowadays, there is hardly any trace of it. And almost nobody living there has knowledge about the tragedy that took place there. Odd but true.

On Signapore, the four of them reunited in 1945.

They went to Holland, arrived in Rotterdam, and found out that:
- Father Sjouke had died in 1943
- Brother Klaas had been killed by the German occupiers in 1944
- Bert was on the run as an escaped prisoner of war
- Joop was free, but his conviction for collaboration was pending
- All the others were locked up for collaboration in Westerbork.

Quite a homecoming.

Hennie almost immediately went to Westerbork to help free his mother, in which he succeeded. But, with the family in such a mess, all he wanted to do in fact was to go back to the Indies and restore his position and good life.

So Stien, Jan and he went off again. Daughter Christa wanted to stay in Holland and studied for schoolteacher in Dordrecht. She never went back to what's now called Indonesia in all her life. She lived in several places, amongst which the houseboat of uncle Joop. Because she hadn't been able to attend school in the Japanese camp, he helped her catch up with her schoolwork again. Till Joop fled and police came looking for him. Hennie was furious, because his daughter had suffered so much in the jap-camps, and now had to endure searchparties and interrogations by police in Holland.

"I'll break Joop's legs", he must have said outraged. Years later, the contact with Joop was reasonably well. To Bert however, the one who lived under an assumed name in Germany, he never, never, never spoke again.....

"Indonesia Merdeka", "Indonesia free", was the slogan the freedom fighters used. And Merdeka Indonesia became. From 1949 on till 1963 about 300.000 people came to the Netherlands. Either bluntly kicked out, or by their own choice, because they did not want to live in an independent Indonesia.
Hennie and his wife and son came too.

They

had no choice, just were kicked out.

In Mijdrecht he got a job as teacher. In this postwar days, het helped set up the technical school. Hennie was a talented man with leadership talents, so he became principle later on. It was the Maarten van de Vaertschool.
I've been told he was good. Good for his pupils. A bit stern, but that's the way he learned from his mother.
Apart from that, he had the care for his wife Stien, who never really recovered mentally from the Japanese camp.

The relationship Hennie had to his brothers and sister was a bit on distance. Makes sense, if you think about the different experiences they had had. Christa had been on the houseboat with Joop, till he ran of.
He had contact to Frouwkje and his mother. To Jacob sometimes, they did not live far away from eachother. The loss of their mother in 1964 was sad. But the biggest drama of all was of course the tragic death of Frouwkje.
As Bert's whereabouts were formally unknown, and Klaas was long dead, the three leftover brothers handled the testament. Hennie did the legal stuff, Jacob and Joop handled the selling of the Kolhoop.
The widow of Klaas was entitled to a share too. Hennie went there to talk things over with her. She bluntly refused to let him in, which might be understandable, but still unjust towards this man. The whole f***ing war was not his idea and he was as much a victim as she was, scarved for life. I can understand she did not want to see my dad, or uncle Jacob, and uncle Bert. They all had played their part in the German occupation. But not so Hennie. Oh no.

Hennie lived to be 85 years, and took care of his mentally ill wife till he could not cope anymore. She went to a institution in The Hague, and he stayed alone for the last years of his life.
I believe he had a good though not totally untroubled contact to his son and daughter. He was a nice grandfather, one of his grandsons told me.

On january the 10th 1990 Hendrik Jan Postma died in Voorhout near the Hague. The candle burnt up. He had a full life. He was the fourth in row of the 6 children Postma to pass away, and the second of them to die of natural couses. As Klaas had been shot, and Frouwkje commited suicide. Bert had died in 1984 in Germany, but Hennie had refused any contact with him, probably did not even know where he lived.
His remains were cremated on saturday january the 13th in "Nieuw Eykenduynen" in the Hague.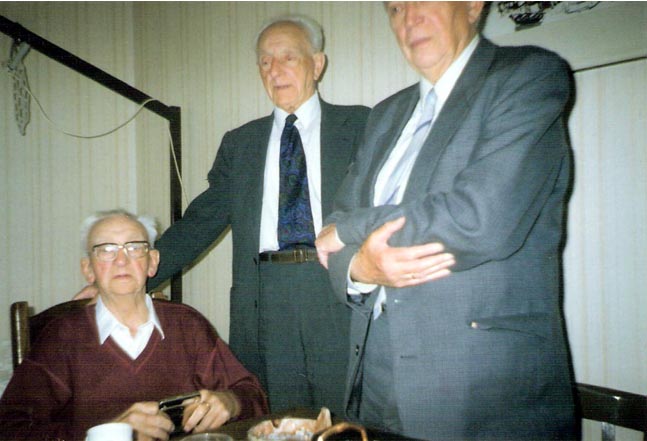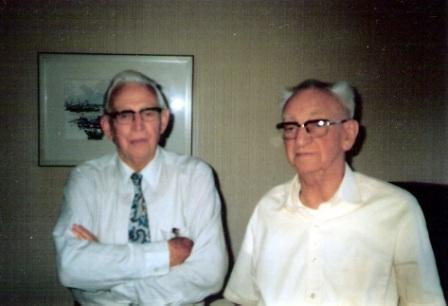 Here's a picture of him with his two brothers still alive Jacob and Joop, and one with him and Joop together.

From left to right: Hennie(sitting), Jacob, Joop

Even as old men, they quarreled about the past from time to time.






Back to the hotel
To the familyportrait