Passport
At IBIS we have the big subject Personal Skills development. This consist four subjects.

HTML: making a website with correct HTML and CSS language.
Information skills: developing your research skill. For example by learning new google tricks and by learning how to make a good source list.
What's in my backpack: who are you, what are your dreams, maximizing your potential.
Thinking & reasoning: writing your own blog about your thinking process.
The other two subjects are International world of business and fundamentals of business. IBIS works with the so called meta skills. Each subject gives attention to some of those meta skills. the meta skills are: define, design, execute, learn and lead. This is how IBIS explains them.
DEFINE uncovering the right problem to solve or opportunity to pursue and framing it in a way that invites creative solutions.
DESIGN developing ethically sound solutions that can better meet the end users' needs and that generate value for end users.
EXECUTE performing the tasks involved in the implementation of the designed concepts, products, services, experiences, business model, processes, strategy, business and/or department.
LEARN monitoring the appropriateness, efficiency and effectiveness of (learning) actions, activities and results before, during and after performing them.
LEAD managing people, action, information and yourself, whether in a managing position or not, from a profound understanding of what customers, vendors and suppliers want.
For Professional skills Development we had to write a reflection. I also made one. If you want to read that you can go to this
PDF
.
Evidence
These images show evidence of my learning process during this term. They are assignments for International world of business and for fundamentals of business. These images stand for the progression of the Meta-skills. I learned how to define a problem in a company and I came up with possible solutions. In my reflection you can read a broader view of my learning process, wich contains the Meta- skills that are involved.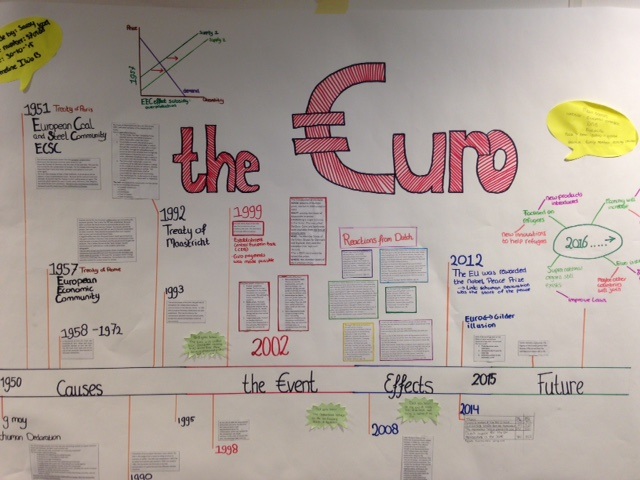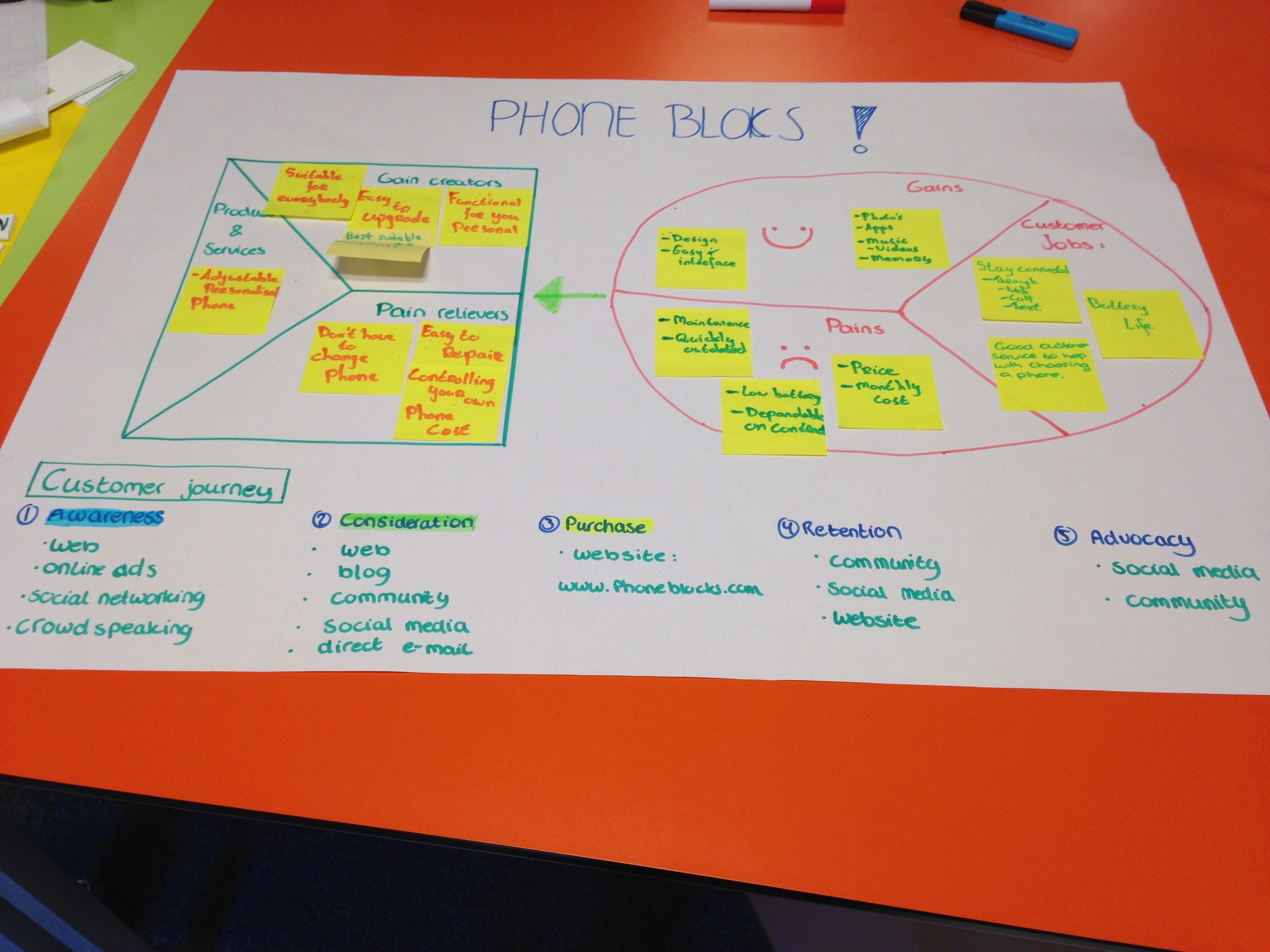 I have noticed that I actually use the Meta-skills in my life. When we had the meeting for the ball in January for the Youth, I was more aware of where problems might show up. I was able to think in the bigger picture and I came up with new ideas. I like to challenge myself to use what I have learned. I think the Meta- skill lead needs to be teached more, the subjects we have had did not contain this meta skill. I think I need to practice more with the skill 'Execute'. This is more focussed on the real business cases. Now that is still a bit new for me, but I want to learn more about it.
International world of business
In this subject we looked at different events that happened in the past. We started at barter and ended with the oil crisis. The assignment was to pick an event yourself and present that. You had to make a timeline, poster and mind-map. I chose the introduction of the euro. This was an important event for the history. I found it interesting to look for the information and to see how everything is linked. The part of the presentation I am proud of mostly is my own little research. I asked family members, but also my economy teacher in high school, to write something about their opinion of the introduction of the euro. Most of them said that they converted everything to gilders in the beginning. They all thought it was a good move, because you can travel more easy within Europe now. Those reactions showed the best what impact the euro had on the society.
Personal skills development
What's in my backpack:

Strengths

After the StrenghtsFinder test we did, 5 themes turned out to be my strengths.

Maximizer: I am able to focus on strengths as a way to stimulate personal and group excellence. I seek to transform something strong into something amazing.
Individualization: I am intrigued with the unique qualities of each person. I have a gift for figuring out how people who are different can work together productively.
Activator: I can make things happen by turning thoughts into action. I am often impatient.
Responsibility: I take psychological ownership of what I say I will do. I am committed to stable values such as honesty and loyalty.
Relator: I enjoy close relationships with others. I find deep satisfaction in working hard with fiends to achieve a goal.

Elevator pitch
My name is Saray Koel, I believe that I am here for a reason. I live to reach out to other people, because that is what God asks me to do. I aim for taboos to be broken, so people can overcome insecurity, stand up and speak! I'm good at leading and activate others. I see the positivity in each situation and person, because I know that everyone is unique. I am a hard worker and I am professional and responsible for what I do. So far I did several things: I was a volunteer in a lepra community in Kenya, I organised activities for youth, I trained and coached a sport team and I wrote and lead the Easter play in High school.

Master plan: at the first lesson of what's in my backpack we defined different things of who we are. This gave a good view of what we had to improve or of what we were already capable of.

Passion: my passion is my faith. I am passionate about Jesus and I want to learn more from Him. My passion is to sing and use my talent to tell people the news of Jesus Christ.
Talent: my talent is that I can sing well. Most of the time I sing in church at our youth club. I am also good at leading and taking the first step. Sometimes I can be a bit insecure, but I want to stand up and show what I can do.
Business dream: my dream is that I can be an inspiration for other people. More specific: girls from the age of 12 and above. I want to use my capabilities and background to inspire them. Not only with words but also with actually doing something for them. In my business I will lead the project and serve people.
Definition of success: my definition of success is that you are happy with what you are doing. I you have the wealth to know what you can live without, you have reached your success.
Long term goal: work in a Christian company in which I can use my strength to lead, be representative and professional to help other people.
Commitment: how am I going to commit myself to my masterplan? First of all: I am not going to do this all by myself. I believe because God is the director of my life and he is in charge. God is my main goal and to tell others His story, I will achieve my goals.
Actions: to reach my long term goal I am going to other countries to learn from other cultures to develop myself. At events like 'Opwekking', I should go to different missionary organizations and ask them how they work.

After all the classes we had to write a reflection. you can read them all if you click on this PDF

Information skills:

Within this course we learned how to use Google in a good way. I did not knew there tricks to search for your information. The most valuable lesson was the lesson about how to make a source list. I still need to practice with it, but I know how to start.

Thinking and reasoning:

This part of PSD we learned, well pretty logic: thinking and reasoning. We learned how you percieve informations (senses), how you react on different situations, how to make good argumentations ect. We had to write about that in our own blogs. In that way we were triggered to think about our own thinking and reasoning. If you want to know my experiences and thoughts, go to my blog.
Fundamentals of business
In this class I learned to work with the Business Model Canvas. One of the most important parts is the value proposition. Here you define the value of the company, so what makes them stand out. The value proposition is dependent on the choices made for the customer segment. In one of the classes we had to make a value proposition canvas for the company phone blocks. This is shown in the images container.
English
At the English classes I learned new words and grammar. I improved my speaking and writing. I made a test to see if I had understand the units. I made the test very well. The classes are interesting, because it is diverse. There is a good balance between explanation and practicing. I hope the classes will be more challenging next term, because than I can learn more.