The insights that I got during the kick-off week of IBIS
On Monday the 31st of August
We had a keynote speaker Paul. The most important thing I learned from him is that when you are thinking of starting a business, don't think but do. If you have a good idea and you believe in it, you will achieve it. The part that really got me inspired was the fact that he was so cool about everything actually, during his career things had gone very messy. For example he once had an idea about a business involving a telecom company as well, when the time was right the guy he know just ran off with the money, he needed to call the investors to let them know what happened. The tip he gave me was that if your heart is in the right place, it is a good decision. Don't think with your brain but listen to your guts. What do they tell you?
On Tuesday the 1st of September
I visited two companies in Amsterdam with a group from the class. The first one was House of Eleonore, this is a company that is making/designing women's jewelry. The most important factor they use is fair trade diamonds. The keynote speaker was the owner of this new company (which officially opens on the 21st of September) Bernd Damme. A 25-year old guy who I have learned a lot of in 1 hour. The most inspiring part from Bernd was that he had started at an early age with being an entrepreneur, the tip he told us was if you have an idea, work it out and start a business at an early age. If you do this you will be more focused instead starting it over 5 or 10 years later. Because by then you won't be having the time you have right now, you may started a family. The second company we visited was Seats2Meet, also located in Amsterdam. The keynote speaker's name was Felix Lepoutre. He told us all about society 3.0. They figured out that it wasn't about the big bosses anymore that were important, it was the people working alone and having big networks. When you come to Seats2Meat, you can get your coffee and sit at the table, at a certain point people start talking with each other and sharing their ideas. After a while when this is happening the good ideas start flowing. This was the thing that amazed/inspired me: People were coming there and just sit down, but after a certain amount of time they would talk to each other and come up with some ideas. It is also a big networking place, when you need something or got something, you ask a person in the room (who was his own network as well) and in this way you expand your network (society 3.0).
On Wednesday the 2nd of September
We as a group started in the morning with a course of Fast Reading. Honestly I had no idea that my reading was that bad until I figured out what my words per minute was. We got some useful tips and I brought them in my reading exercises immediately. And what do you think? Immediate result! At the end of the lecture I had doubled my words per minute, understanding the text better as well. Think about the effect of only 3 hours, now imagine what this could do if you exercise with reading once a week. In the afternoon we had a keynote speaker at school, his name was Harry te Riele. He started the Dam Foundation, which basically is a modern bank to put it short. He started this on his own, and the thing that got me inspired (which technique I am going to use from now on for assignments as well) is that he had done a lot of research in order to open the Dam Foundation. He told us that reading about history is a great way for coming up with designs/ideas. Also, looking critically at society in order to see what to change in big and small lines. The way it works is quite unique, because it is a money system without banks. You open your account at zero level, you deliver another person something. Because you did he has a negative balance and you have a positive one. It is trading without interest. He gave us a picture from an innovation guru as well. And at the end of his speech, he gave us a very important tip: Make a mixed balance in your innovation team. With a great idea, other characters can pick it up from there were you're left/stuck. After the keynote speaker Harry te Riele, we needed to write down the thing which amazes/annoys us at the same time, individually. I wrote down bees because it amazes me that they taking care very well for the environment but it annoys me at the same time if they are getting to close. After that, the teachers would pick out the 15 quotes with the most votes. When that was done, you needed to choose one, so I choose: NS having delays. Time past, and everybody had chosen which quote they liked. Now the assignment came along, we needed to tackle the issue, for example: what are the consequences if they are late, why are they late etc. We were not allowed to come up with solutions, thinking of the solutions was part of the assignment for the next day.
On this page you can find some insights
I mainly had during the kick off week of IBIS. It was very awesome that we did certain activities that gave us a clearer view of what IBIS is. Also, during Term 1 we had a keynote speaker as well, his name was Gabriel McIntyre and he was the CEO and Founder of: The game beyond. Below there is a very short summary of what he was telling us during the class. Making games people simulate with the worst case scenarios. They can come up with creativity in order to solve these worst case scenarios.
Extrinsic reward system:
Glory: Being number 1 I'm the best
Goods: Money, cars, houses, bikes
Intrinsic reward system
Glee: Whenever you learn something or solve a puzzle (you're learning new stuff)
God: Gains control to having control to your own destiny
People who are creative don't have to make any jumps in the brain for some reason.
Unfortunately I did not had any insights on this subject. To be completely honest, the gaming sector does not interest me a lot. But although I think it is very cool what he is doing and innovative as well.
Also, below
Are some pictures from the Kick-Off week with IBIS. The picture is about the posterpresentation for the issue: "NS having delays".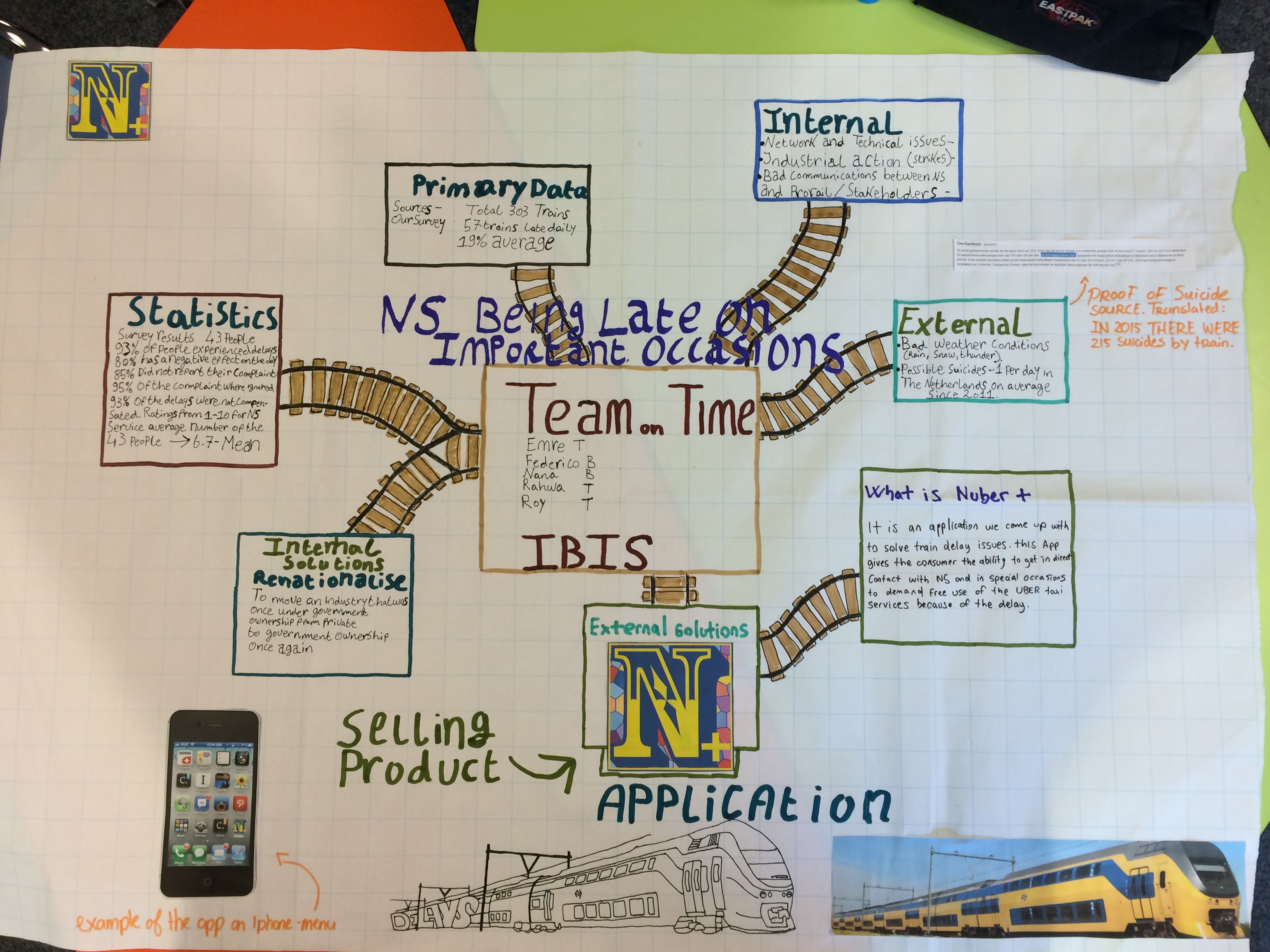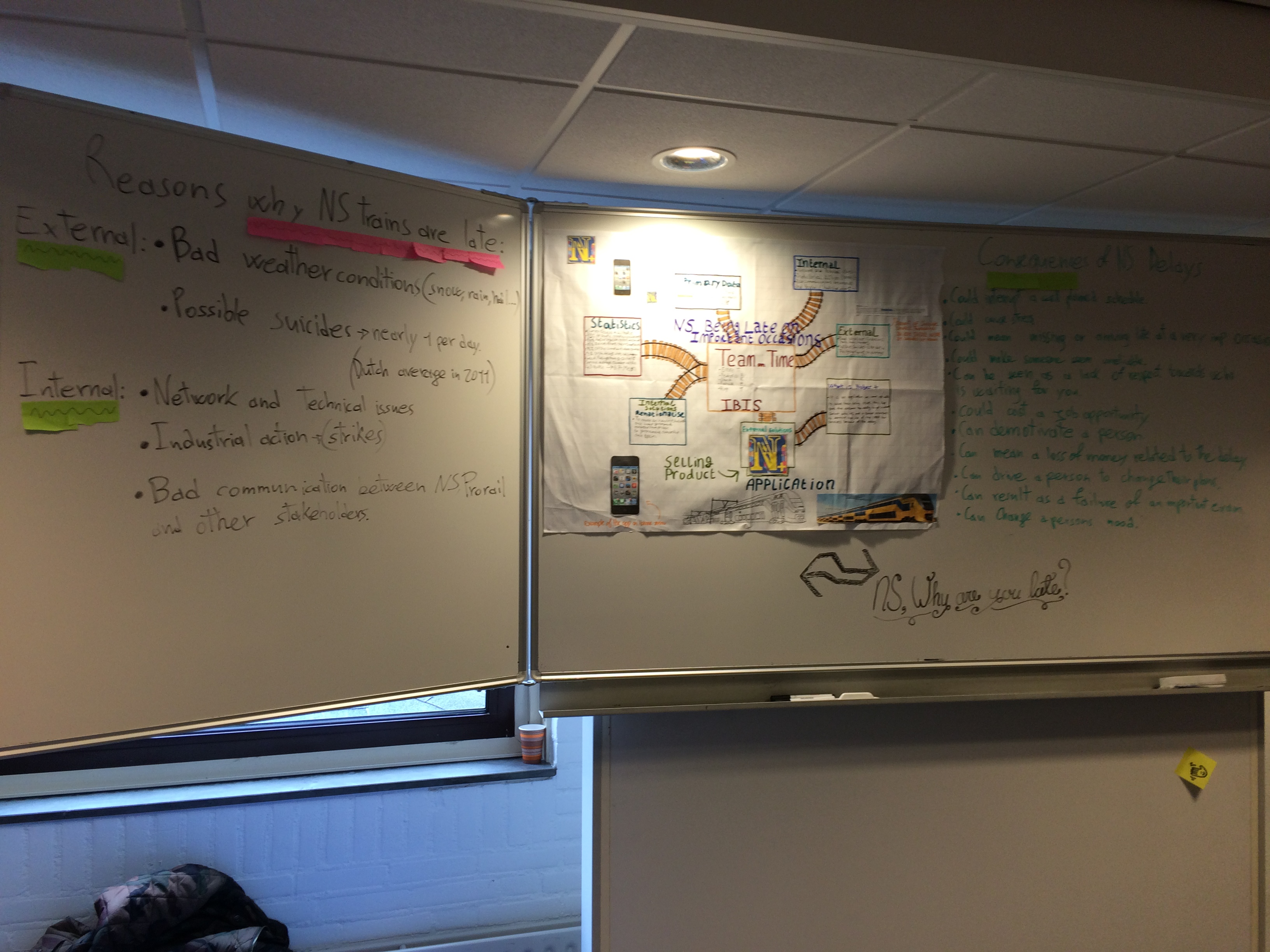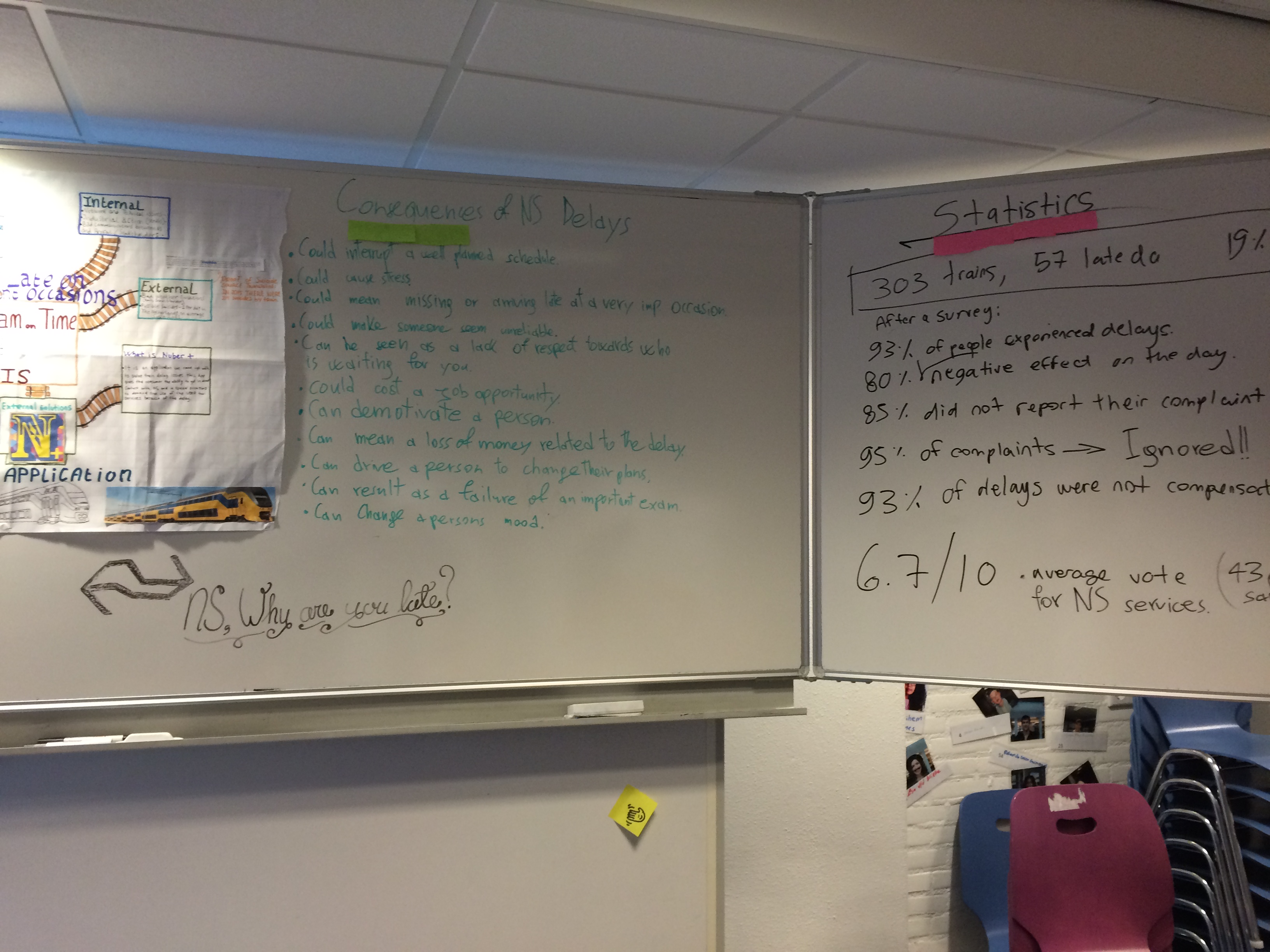 On Thursday the 3rd of September
We continued with the deep dive. Instead of tackling the issue, we needed to think of solutions. To come up with solutions you need to do a lot of good research (the inspiring tip I got from Harry te Riele). So we did as a group and came up with some good ones. One of the solutions was Nuber+. This is basically an app from Uber and the NS together. If you have an important occasion and you need to be there on time (for example you need to catch your plain) you can use this app. Because Uber is very cheap it wouldn't cost the NS much and in this way you will be on your location, on time. Instead of being dropped at the next station through a bus from the NS and continue your journey. So that was our external solution in big lines and the internal solution was that the NS would renationalize. Research told us that the NS has to suffer from a lot of errors and stuff on the railways (which are owned by ProRail) so we thought why doesn't NS sell itself back to the government, becoming a government owned company instead of a private owned one. In this way, the communication between the current competitive companies NS and ProRail will be way better. In the afternoon we had another keynote speaker, her name was: Mireille Houtzager, who came to talk about the (un)known capabilities of smart textiles and fashion. It was very effective to hear the information, she came with some innovative stuff like: ''A solution to the problems, improving things and making them more efficient. 64.000 years ago they made a fishnet. So somebody back then thought, instead of fishing for one fish, wouldn't it be more efficient if I just made a fishnet so I can catch multiple fish at the same time?'' Or ''When the Eiffel-tower was build, everybody said it was useless and ugly. Yet nowadays there is a restaurant on top. It is a national symbol'' So when she started off with this kind of information, she immidialitly had my attention. She continued and talked about the innovative ideas and products behind some big companies. For example the question what can they do, what I can't do? If you ask yourself this question you will be more innovative because you will lighten up someone's skills. For example skull fly's, they can light up in the dark. Why not merging them in traffic signs in order to light up in the night? Unfortunately, she couldn't finish the lecture. But thank god I have wrote the stuff she said mostly down, because it was a very useful lecture. After her lecture we continued with coming up with solutions for the issue we had and making the presentation we were going to give to our classmates, the 2nd years and the teachers.
Friday the 4th of September
The morning started crappy, because we (as a group with the name Team on Time) had to make a new presentation. At the end of yesterday we found out that it would not be possible to use the projector to give the presentation. I always have a plan B, just in case, so in this case Plan B was activated. Which consisted of me working at home at the new presentation in order to finish it the next day with my team mates. I discussed the issue to them and they agreed so there I was Friday morning, with some pencils and stuff working at the new presentation with my teammates. I have to say that the presentation we made (the new one) looked pretty good, better than the one we were planning to hold on the projector. Below there are some pictures as well, just to give the reader an insight. At 1 o' clock the market would start, which means that everybody would walk everywhere to get pitched about someone else his issue and solution. Roy was our pitcher and he gave us some tips. But at the beginning we were a bit confused, a teacher came across and asked about our project. I first thought she was complementing our work so I laughed, but on her look I saw there was nothing to laugh about lol. So she gave us some final tips in dividing the rolls in the teams. One of them was collecting people to come to the presentation. So, automatically I knew my mission: Getting people and getting them fast. We received a lot of compliments of the teachers and students about our idea, actually I think that this solution is good enough for the NS as well (the Nuber+ app). The thing I learned on Friday is that teamwork and communication is very important, because we had a major disaster at the beginning of our presentation. After the market we had a couple of drinks and stuff and we were told to switch our mind from here, because it is a lot of working and a lot of self-study. Nevertheless I am very happy with this progamme, I did not have a single moment of doubting when I was doing the kick-off week. I am looking forward for the lectures and the upcoming 4 years with IBIS on Inholland.