Plain Air
Two conceptual paintings by Laszlo Kerekes (1999 - 2001)
Pleinair / Plain Air
Pleinair > [:plänär, Fr.], Pleinairisme / Open space light-painting (on-location painting)
These two painting-like conceptual works use conventional means as a metaphysical extension of the high-tech videos in the False Landscapes project. In both works appear the main graphic motif, located in the context of airplains. The fascination of flying alludes to the idea of viewing a landscape, similar as with pleinair-painters, but also adds the additional perspective of motion.
The first of my Plain Air-paintings was created in February 1999. Soon it became clear that it was a premonitory sign of the unexpected NATO air war against Yugoslavia. Novi Sad, the capital city of Vojvodina, along with all the Danube River bridges there, experienced the heaviest bombing. The city, representing the freedom of the past, was once my peaceful home.
The second Plain Air-painting was produced during my technical experiments using lasers at the end of August 2001.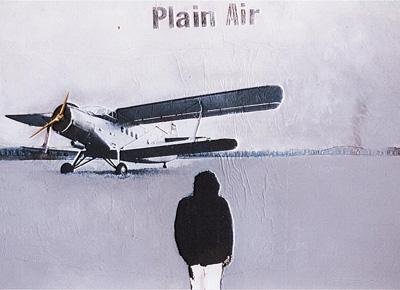 Plain Air
Conceptual painting / False Landscapes,
mixed media & acrylic on wooden board / with an integrated watch as a propeller of the airplane, 70/100 cm
(February, 1999)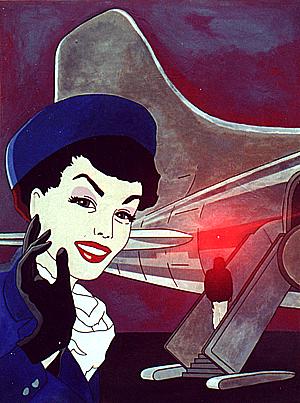 Plain Air 2
Conceptual painting / False Landscapes,
mixed media & acrylic on fiberboard / with an integrated laser-pointer on the side of the airplain
(by which the laser-spot represents the substantial idea of False Landscapes), 112/ 84 cm
(August, 2001.)
More about the False Landscapes project at this website under False Landscapes
© Laszlo Kerekes / Berlin / 2001.