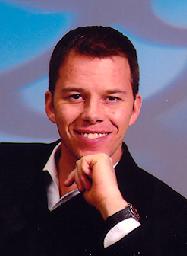 Biography
François Soons (1973, the Netherlands ) Being born of musical parents, his talent and affinity with music became apparent at an early age. He commenced his professional career studying both Musicology at the University of Utrecht and singing at the Royal Conservatory in The Hague .
After receiving his doctorate from the latter, he continued his musical training at the New Opera Academy in Amsterdam , where he obtained his Master Degree in Opera Performance in 2001. During and after his college period, he attended master classes of Cristina Deutekom, William Matteuzzi, Diane Forlano, Graham Clark, Dale Duesing, Barbara Pearson, Tina Ruta, William Schimmel, and Alexander Oliver, just to name a few.
Nowadays he is well-known for his flexible and extremely high tessitura voice, which easily goes up to a high F and makes him amongst the highest tenors in the world. François Soons distinguishes himself with his unique tenor sound, which suits the special "Fach "of tenore di grazia / tenore leggiero and makes him outstandingly qualified for the belcanto and baroque repertoire.
François Soons has worked with prominent conductors such as Alberto Zedda, William Christie, Paul McCreesh, Alessandro de Marchi, Andreas Spering and Kenneth Montgomery, and directors such as Javier Lopez Pinõn, Emilio Sagi, François de Carpentries, Giuseppe de Tomasi, and Vera Nemirova.
François has also successfully participated in a few international vocal competitions. To name a few, in 2001, he reached the finals of the Coloratura Contest Sylvia Geszty ( Murcia , Spain ) and the finals of the Toti dal Monte Competizione ( Treviso , Italy ). In May 2003, he won the Mady Mesplé Price at the Montserrat Caballe Competition in Andorra .
François Soons started his professional carreer already during his studies at the Conservatory. He sang leading roles in several opera's, including Cosi Fan Tutte (Ferando), Don Giovanni (Don Ottavio), Die Zauberflöte (Tamino), Dido and Aeneas (Sailor), and Albert Herring (Albert), just to name a few. In 2000, he was asked to sing the part of Dorvil in Rossini's "La Scala di Seta" at the Summerborn Festival in Voorst (the Netherlands). In the same year, he sang in two productions the role of Paris (La belle Hélène, by Offenbach ), and the part of Pedro (El Retablo de Maeso Pedro, by De Falla).
After graduating, the part of Uldino in Attila (by Verdi) took him to Rotterdam (the Netherlands ), and he sang Paolino in Il Matrimonio Segreto (by Cimarosa) at the Belcanto festival in Dordrecht (the Netherlands ). During this production he was asked to sing the title role in Mozart's less-known opera Il Sogno di Scipione on a CD-registration for Joan Records Company. This complete opera CD was released in 2002.
The next production brought him to Szeged ( Hungary ) where he sang the part of Tanzmeister / Brighella in Ariadne auf Naxos (by R. Strauss) with performances in theatres in Hungary and in the Netherlands .
In August 2002, François became the first Dutch singer to participate as a full-time participant of the Accademia Rossiniana in Pesaro , where he was selected by Alberto Zedda to sing the part of Il Conte Libenskof in the opera Il Viaggio a Reims by Rossini. In December 2002, François sang the part of Tamino in Mozarts Die Zauberflöte again in The Hague , the Netherlands .
In 2003, he made his debut as Nadir in Les Pêcheurs de Perles (by Bizet) and Andres in Wozzeck (by Berg) at the Stadt Theater of Aachen ( Germany ). In the beginning of 2004, he sang the part of Fabius in Die edelmütige Octavia (by the German composer Keiser) , conducted by Andreas Spering, at the internationally acclaimed Händel-Festspielen in Karlsruhe , Germany . In 2004 he returned as Beppe in Leoncavallo's I Pagliacci (a performance with the Dutch Residentie Orkest conducted by Jaap van Zweden, performing at the major concert houses in the Netherlands , including the Concertgebouw in Amsterdam . He successfully started the year with a highly acclaimed stage performance of Arturo in Bellini's opera I Puritani, an opera rarely performed due to the difficulties of the tenor part.
Next to opera he often performs oratoria including, the Requiem mass by Mozart, Petite Messe Solennelle by Rossini, Jephta by Händel, Messa di Gloria by Puccini, Carmina Burana by Orff, the evangelist in Telemann's Matthäus Passion and the Johannes Passion and Matthäus Passion by Bach (aria's).
Since September 2004, François Soons is engaged at the Landestheater Eisenach.
( www.theater-eisenach.de )