FROM THE VIDEO-WORKS OF LASZLO KEREKES
Videostills / examples
click on the title to enlarge
B R O T H E R
a reality-performance by Laszlo Kerekes & Dr.Tibor Kerekes
filmed in May 2002. in Vojvodina,
Ex-Yugoslavia (recently Serbia and Montenegro)
by Dimitris Tzamouranis & Kathrin Lind
Digital engineering by Norbert Lipps
Duration 52 minutes / Produced in Berlin / Germany / 2003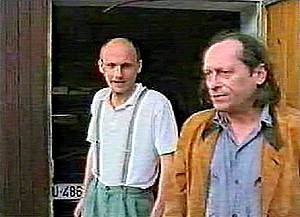 Two brothers, Laszlo (48) and Tibor Kerekes (43) meet for the first time after more than a decade at the house of Tibor.
Inbetween there was a war, a time of dictatorship and hard national oppression. During this period, the brothers had different experiences. In their lifes and souls accured some unreparable damages.
Laszlo Kerekes is an international artist living in Berlin since the takeover by Miloæeviå in 1988. His younger brother, Dr.Tibor Kerekes, is an unemployed veterinarian living in the village Ÿantavir / Csantavér in the North-Serbian Vojvodina, belonging there to the ethnic Hungarian minority.
Their mother language is by that Hungarian but at their meeting after a very long time, they had to speak with each other in broken English - as they never did it before.
This video-work is an artistic extension of the documentary film"Scars on Landscape" by Dimitris Tzamouranis & Kathrin Lind about the first visit of Laszlo Kerekes in Vojvodina after 13 years of exile in Berlin, in May 2002.
© Laszlo Kerekes / 2003