Again new games !!!!!!!!

frim Latvia made 3 new games

achtung 01
achtung 02
achtung 03

Download here it there





and
Dustin bachstein made a game
Rock Fort 1



Again some updates!!!!!!!!!
Arno updated his Original gfx and made a new fonts.Also he releases a NoFlash version.
The files are in de retro pack Just go to the download page.

There are 5 new boulderdash games !!!
the files are in the levels addon pack

RTAdash 1
RTAdash 2
RTAdash 3
RTAdash 4
RTAdash 5

I also converted 158 new games by Scserbin Zoltán
The pack contains 384 games now.

Have fun
Odo!!!!


forgot to update the download page sorry
All downloads work now
boulder remake 2.1 released
Changes :

- main pack contains 211 Boulder Remake games with 3920 recorded demos
- added keyboard shortcut "E" to enter editor mode at title screen
- disabled "T" shortcut when demo is playing (it caused problems)
- fixed: sometimes "Save as.." instead of "Save" dialog box is showing
- fixed: sometimes "Playing demo" option don't turn off the title screen music
- fixed: bugs with Rockford animation
- Hungarian translation by Peter Bernat

i also converted about 160 new games i`ll upload them soon
Converted 24 new games
now a total of 773
just download the big pack !!
Boulder Games 2
FalCon Dash 2003 Legends Returns
Flacon Dash 2004 The big diamond
Fun Dash 15
Lord Diego 23
Profi Boulder 20 fix
Profi Boulder 21 fix
Profi Boulder 95
Profi Boulder 100
Profi Boulder 102
Profi Boulder 105 Fix
Profi Boulder 106
Profi Boulder 110 fix
Profi Boulder 111 fix
Profi Boulder 112 fix
Profi Boulder 113 fix
profi Boulder 114
Profi Boulder 116
Profi Boulder 118 fix
Profi Boulder 119 fix
Quicky Dash
Quolder Dash 02
Quolder Dash 03

Quolder Dash 1
agian new caves added :)
this is the first game made with the boulder remake editor
just download the levels addons pack


Arno Weber made some very nice retro graphic you can download it
at the download page (retro pack)



Quolder Dash 1 for Boulder Remake.
Reworked and added new caves!!!!!!!!!
Arno Weber Made some nice graphics :)
if you like soccer this is a must try ;)
thanks arno!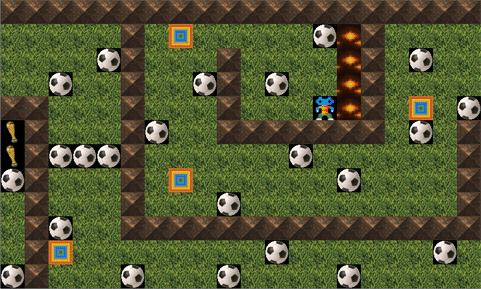 i`m still working on this one :)
but now it has a little man
Still don`t have a name for him
also changed the acid slime Amoeba
i want to try to change some of the colors
the green diamond is not so nice
at this time you can only use it at 40x40 zoom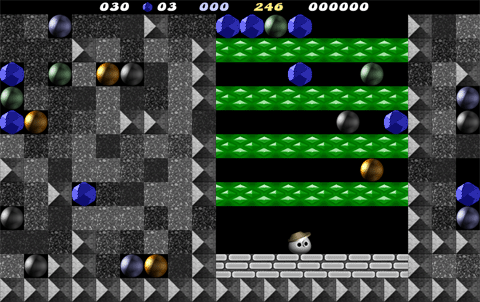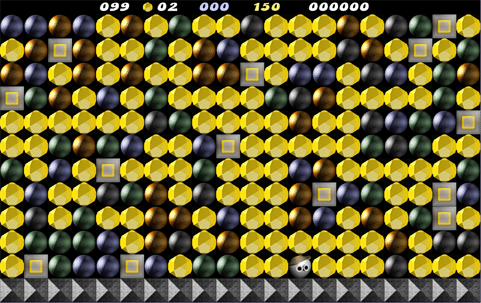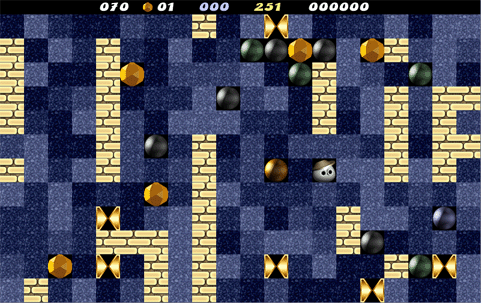 Boulder remake 2.0 released 2-6-2006
Boulder remake 2.0

-----------------------------------------
W H A T ' S N E W
-----------------------------------------
- more graphics
- no crash anymore when MIDI music playing
- max. length of demo = 600 (before 400)
- high scores table
- new elements and effects from Marek Roth's C64 Crazy Light
Construction Kit 3.0
- cave hasn't boundaries (Rockford can walk from one to the other side
of the cave)
- new cave generator
- multilanguage support
- many little corrections




pack 1 updated again 30-5-2006
arno weber converted Arno Dash 18 to bremake format
i enjoy his games very much ;)
arno weber has his own hompage
with a lot of nice c64 boulder dash games
just use a emulator to play them


750 GAMES
pack 1 updated again 25-5-2006

total of 749 games!!