Foto van de maand oktober 2005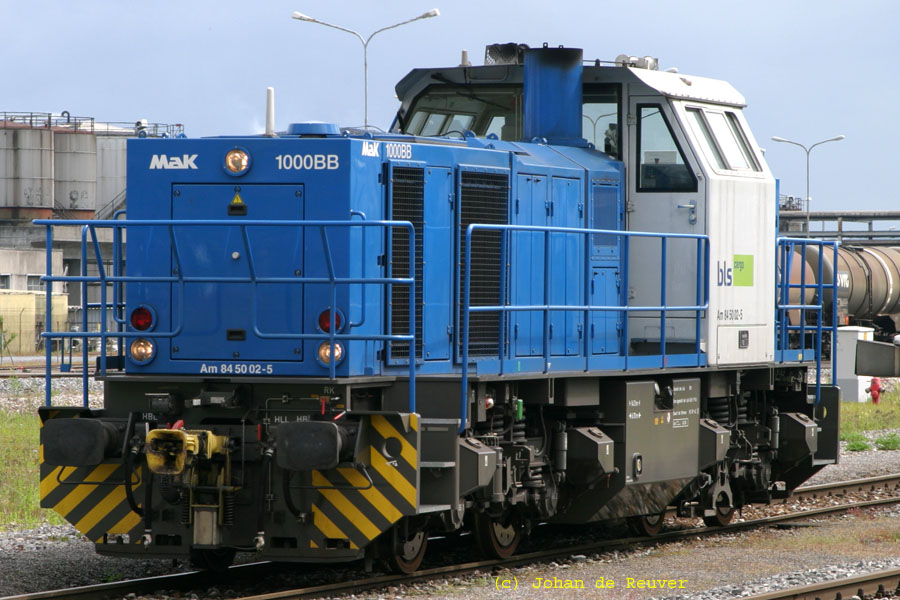 Ook de BLS maakt sinds enige tijd gebruik van Vossloh tractie uit Kiel :-) Het betreft de lok Am 845 002 type MaK 1000BB afgeleverd
op 24-11-2003 met fabrieksnummer 1001323. Dieselmotor is type MTU 8V 4000 en heeft een vermogen van 1100 Kw.
De machine is geen eigendom van de BLS maar wordt gehuurd van Angel Trains Cargo en wordt ingezet te Cornaux ten behoeve van
rangeerwerkzaamheden voor de petrochemische industrie. De BLS heeft een concessie voor het afhandelen van het spoorvervoer
voor de petrochemische industrie te Cornaux door heel Zwitserland.
Cornaux 23 mei 2005.
Also the BLS is getting used of Vossloh traction from Kiel since some time :-). It concerns locoAm 845 002 of type MaK 1000BB, delivered on
24 Nov
ember 2003, having factory number 1001323. The diesel engine is of type MTU 8V 4000 and has a capacity of 1100 kW.
The locomotive is no property of BLS but has been rented from Angel Trains Cargo and it is in use at Cornaux because of shunting purposes for the
petrochemical industry. BLS has a concession for settling the rail transport for the petrochemical industry at Cornaux, throughout Switzerland.
Cornaux, 23rd May 2005.
(thx to mr Aleva for translating

J

)