TRI UZROKA NESRECE / THREE CAUSES OF ACCIDENTS
a solo performance by Laszlo Kerekes (duration 15 min.)
shown in the abandoned factory "Torpedo" in the harbor of Rijeka (Croatia) in August 2003 / during the FONA-Festival.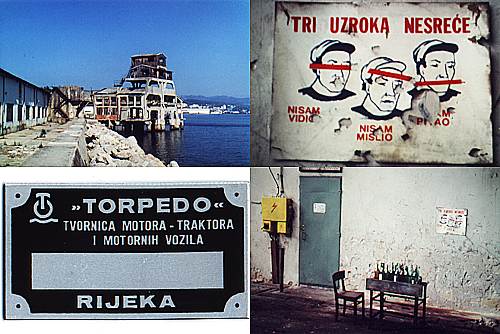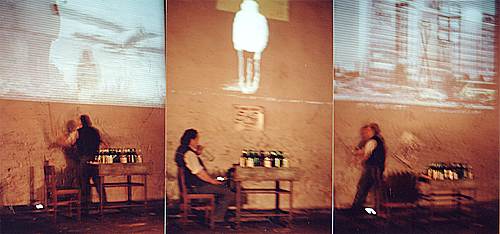 Photos © Martina Panzner / L. Kerekes
The performance took part on an improvised stage built from a table-installation with bottles moved by means of an electric motor; the bottles vibrate and roar intensively. A large screen beam-projector and a small hand-held TV-set show live programs of a local Croatian station.
This huge abandoned factory, located directly on the Adriatic coast was very important in the historic past. The Navy of the Austro-Hungarian Monarchy tested and produced the first torpedos in the world there. During the time of not so long ago dismantled Yugoslavia apart from military production, engines and tractors were also made in the"Torpedo" - factory.
Among gabrage, I found a board from that socialistic time, warning verbally and graphically about three causes of workaccidents:
"I didn't see / I didn't think / I didn't ask".
More about the torpedofactory in Rijeka (Fiume) under:
© Laszlo Kerekes