NATURALEZA MUERTA
PERFORMANCE / duration: 18 minutes
September 14th, 2001 / Zaragoza (Spain) Cambio Constante II / Av. Cesar Augusto 103
(with Rakel Félez, Tomasz Matuszak & Dionisio Sandez)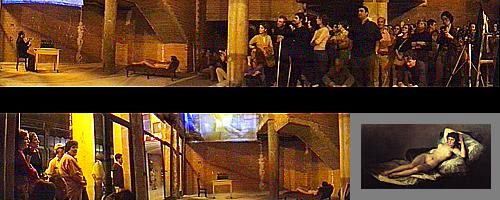 Video stills / Andreas Sachsenmaier / above illustration >La Maja Desnuda by Goya, Madrid, Prado

/Naturaleza Muerta, sp. means "still life" or "dead nature > natura morta"/.
This performance (duration: 18 min.) follows the performance-model developed for the stage at the Bauhaus in Dessau at 1997 / > "Where do we go from here?" (with collaboration of Dragana Cukavac).
The performance included a big screen beam-projection, choreographed with excerpts of some of my earlier video works, with the addition of a hardcore part, shot in a mad house.
A small hand-held TV-set showed the live program of a Spanish TV station repeating images of the catastrophic terrorist attacks on the World Trade Center in New York. Later, sitting at a table covered with empty bottles, I'm blew into one of them, filling it with temporary condensation. At a nearby contrasting stage lay a beautiful woman on a couch similar to the one in Goya's well known painting, Naked Maja / from the past that becomes definitely closed.
The table with the bottles was moved by means of an electric motor, which caused the bottles to vibrate and roar intensively.
Simultaneously, the walls and the floor were beaten by performance assistants with wooden sticks. At a certain moment during the powerful performance another assistant screamed loudly.
© Laszlo Kerekes / 2001.