Videostill
BAPTISM IN THE DANUBE
(with Philip Danko / Exterior of a house in Scharnweberstraße / Berlin / 1994)
"He was shooting on his partner with a gun."
(Between the North Sea and the Black Sea all the rivers are connected with each other. Nations, their cities and populations, too. It means also Berlin, connected with the Danube through the river Spree.)
This performance is not about the geographical interactions, only. In the name of all the saints many things can happen. "Crime and Punishment". Stigma and the stigmatized.
"HUMAN-HENDGE"
(with 13 participants)
Chapter Arts Centre / Cardiff / 1994
An elemental performance with submerged bodies.
A few men buried almost to the waist in the earth. Their burriers are whirling around them - free - like dervishes, earthbound mortals, who, by dancing, want to unite in ecstasy with a heavenly deity. The barrier between the buried and the buriers is obvious - it always has been.
The two part performance is underscored by two musical motifs on looping cassettes. Repetition emphasizes the eternal cycle, the simultaneous mutuality and conflict between different civilizations.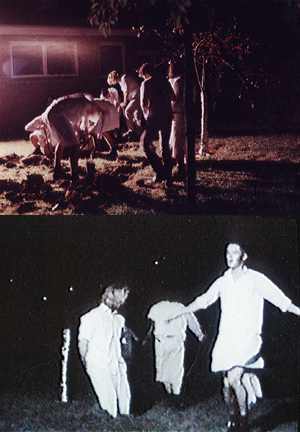 Photos Dagmar Uhde & Videostill