False Landscapes
ABOUT THE VIDEO-WORKS OF FALSE LANDSCAPES-PROJECT
TECHNOLOGY IS USED AS AN ARTISTIC TOOL FOR PHILOSOPHICAL EXPRESSION AND REFLECTION
As such his manipulation of electronic media creates structures and spaces for thought and reflection. These become personal spaces, which fuse with the memory of the viewer. The question of False Landscapes proposed by Kerekes is also a question of our reading of electronic media, the influence it has on our lives and the way in which our perception of our environment is influenced by these media.
The falsification is a creation of the experience of the viewer. Kerekes uses a subtile and well deliberated language to propose his thesis, in which the vocabulary is based on congitive images which represent the same feelings of home and place in the viewer.
That home and landscape are often one and the same, and become objects of mythological fascination, can be seen in the current european conflict. Kerekes work, a piece which has been in various stages of development for about 5 years, has now, through his conflict been put into a new context - one in which a completely new vocabulary begins to emerge.
Stephen Kovats
Bauhaus Foundation Dessau, Studio Electronic Media Interpretation, 1999.
---
ABOUT VISUAL INTERVENTIONS IN OPEN SPACE BY LASZLO KEREKES / IN THE SEVENTIES
Between 1971 and 1974 Laszlo Kerekes was an active member of the group Bosch+Bosch in Subotica, and during that period of time he undertook such projects which enriched the new art of the 70's in Yugoslavia.
Today his activity can be viewed on four grounds, although these went along side by side, and only stood for different aspects of a certain basic artistic tendency. These fields are: intervention in the natural environment, conceptual works, works in a spirit of visual poetry and the actions of the artist with his own body. If we are to mark off what is the most original in his "Bosch-period" and what makes him special on Yugoslav scale, then it is surely his intervention in the natural environment, a kind of land art.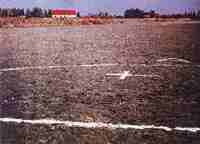 Visual intervention in open space, (Drained Lake Palic), Plaster, lime, 1972.
It became clear to him that the real effect of turning to nature and landscapes could be achieved only when the naturalness has been completely preceived, and the results of the search for such an experience are his actions on the drained Lake Palic (March, 1972). Here he wants to experience directly the states and transformations of the materials he was working with: under the dry and cracked upper crust of the soil there remained a wet and sticky sediment, and when marking the surface the artist had to put up with walking in the deep mud.
Continuing his experiments with the surface he took into account all the changes that take place in nature and the atmosphere in the course of two weeks, accepted their unpredictable influences, and thus this kind of work necessarily remained unfinished: the result is not an object but a situation, and the situation is something that constantly changes and finally disappears in an instant.
Dr. Jerko Denegri
(Pictura Erupta, Új Symposion, Forum Novi Sad, 1986.)