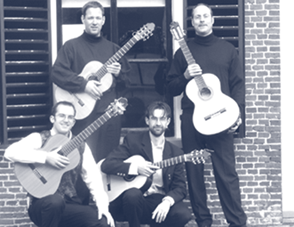 The 'ENCUENTRO Multitimbre Guitar Quartet' was founded in 2004, making recordings for 'the Eagle Flies Alone', a Derk van der Veen album (expected summer 2006). Encuentro means 'meeting', and represents music as a meeting with new ideas, as wel for the musicians as for the listeners. Making their own arrangements and compositions, the quartet has created already a quite unique 'sound'. Mixing different types of guitars - classical, flamenco and steelstring - opens the way to more soundcolors than you could have in a classical guitar quartet. Members are:
Derk van der Veen's most important teachers include Roman Jaworski and Stepan Rak. He studied at the Rotterdam Conservatory, the Zwolle Conservatory and the Music Academy in Prague. He plays and composes in a lot of different styles. He is leading a very active and creative live, teaching, performing, recording and organizing concerts. Website
Jan Bartlema studied the guitar under Pieter van der Staak and Jorge Oraison. After he graduated from the conservatory he continued his studies with the Czech guitarist Milan Zelenka, with whom he gave several concerts and did radio recordings in the Czech Republic and the Netherlands.

Besides playing solo recitals and guitar concertos with orchestra, he is very involved in chamber music.

In particular, he has great interest in the music written by Dutch composers. He recorded a CD with works by the Dutch female composer Annette Kruisbrink with the name 'Encuentro' and a CD with the Dutch composer Pieter van der Staak, 'Pocket Music'. Website
Bart van Uden studied classical guitar as well as flamenco-guitar. Amongst his teachers were Jacob Vlijm and Paco Pena. Bart also leads a busy live as flamenco-player, solo and as accompanist for dance. He teaches currently in Amstelveen.

Rik Hasselman studied classical guitar with Jacob Vlijm and Hans de Weerd, Attending masterclasses with a.o. Roberto Aussel, Duo Assad and Pieter van der Staak.

Since 1995 Rik is a member of 'Duo Contigo' with Johan Sterken.

Rik teaches accoustic guitar in Harderwijk, Dronten, Wijhe and Zwolle.

fragment of 'De verloren Stad' by Foppe Jacobi

fragment of 'Acquarelli Cubani' by Luciano Fancelli
Concerten/concerts
23 April: Walta Festival Sneek, Boekhandel van der Velde, 14.30 uur. Meer info: www.cvksneek.nl. Encuentro speelt werk van Jacobi, Fancelli, Bartlema e.a.
Nieuws/news
Het Encuentro Multitimbre Guitar Quartet zal rond oktober 2006 verschijnen op de nieuwe CD 'The Eagle Flies Alone'.
Contact: email