Alanya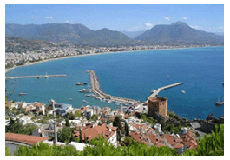 Alanya was ever the main port of the Seljuks, now referred to as the Miami of Turkey. Here are the most beautiful sandy beaches of Turkey, which are kilometers long. Alanya is the last years become one of the main tourist sites of Turkey. Because of its subtropical climate, there are more and more tourists in winter. At night it is nice and busy at the harbor. It's always nice because of the many restaurants and bars that Alanya has to offer. High above Alanya is a huge castle, which at night is lit beautifully.
Alanya is a very busy resort. High above the town is a large fortress, which can be seen from afar. Along the promenade is a series of medium and small accommodations. In the old town there are many shops, including leather goods, souvenir shops and small supermarkets. In the high season it's very lively and noisy here
The sandy beaches of Alanya are partially covered with gravel and pebbles. In the sea there are pebbles and boulders on the rocky bottom. The beach is interrupted in places by the river into the sea. There are possibilities to rent chairs and parasols. There are also showers, toilets, changing rooms and about 25 beach bars.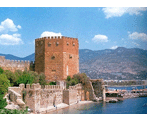 In Alanya you have a typical Mediterranean climate, so you have hot summers and mild winters. There is seldom much wind, because the city is located between it's surrounding Taurus Mountains.
The red tower is next to the marina. This building was designed in 1226 for military purposes and port control. It is one of the unique monuments of the Seljuks and with its octagonal shape the symbol of Alanya.